The theme for this year's science month is SCIENCE FOR THE PEOPLE: Liberating Education Through Innovation, which was adopted from the theme of NATIONAL SCIENCE AND TECHNOLOGY WEEK by the Department of Science and Technology.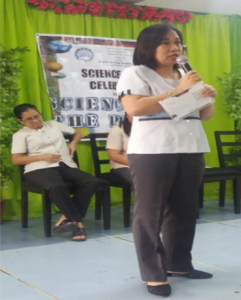 In Don Carlos Village Elementary School, The science month celebration started with an opening program on September 3, 2018 at school grounds where attended by the Mrs. Gelane T. Dagdag, Master Teacher II, Mrs. Evelyn S. Quinan, Master Teacher I, science teachers headed by Mrs. Erna Valleja of Grade Six and Mrs. Maria Lourdes Ellorin of Grade 3 and pupils of grades 3 and 6. Where the pupils were oriented about the activities.
There are various activities prepared where pupils can join and enjoy: for Kinder: Mosaic Making and Film Showing, For Grades 1-3 Mosaic Making and Film Showing,  for Grades 4-6, Film Showing, Poster Making, Slogan Making and Quiz Bee and Mr. and Ms. Ecorampa are the contest and activities that they can join.
The activities were done in accordance to the assigned schedule per activity.
Pupils were highly encouraged to join. The contestants and the teachers are oriented on the materials needed, rules, guidelines and criteria for Judging before the competition begins.
The judges per activity were teachers in different grade levels, the follow the criteria based on the orientation
The list of winners per event is consolidated for the scheduled awarding
The Closing and Awarding ceremony which was held on October 2, 2018 was attended by the Mrs. Sardonica V. Bajado, Master Teacher II,Nurse Esnairah Diamla I together with the pupils awardee together with their parents. They were awarded with certificates and medals, trophies and sash.